Out of the blue, unannounced and without any fanfare, a brand new Disney Park Exclusive Black Series 4-Pack appeared on the Hasbro Shop website today.
Click through for all the pictures!
The 4-Pack will give you a Mountain Trooper, an all new Mouse Droid, Commander Pyre who looks like a Captain Phasma retool and yet another Kylo Ren, based on his look in The Last Jedi.
This 4-pack will apparently only be available exclusively at Disney Parks, no info yet if and when this 4-pack might be available elsewhere for people who live in countries that don't have Disney Parks. I suppose ebay sellers will have a field day with this 4-pack. Even if you don't need yet another Kylo, that all new Mountain Trooper and Mouse Droid are certainly very attractive and Commander Pyre looks quite nice too with his golden armor.
This will be the box art: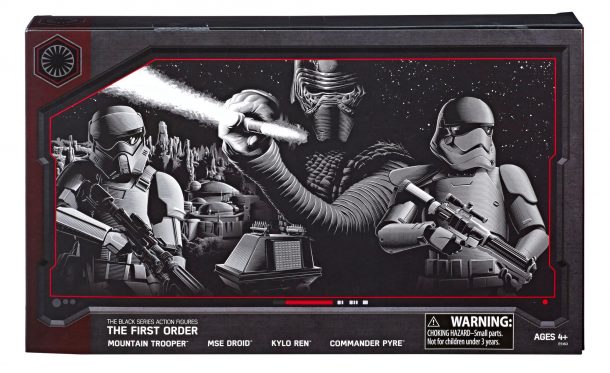 And this is the short info text on the back:
The First Order 4-pack is connected to The Last Jedi and Resistance, this is NOT for the upcoming Episode IX.
So, how do you like this set? In my opinion it's a really nice exclusive set with some highly desirable figures. That it's only available at Disney Parks however is a big negative. Most fans don't have a park nearby, most fans don't even have a Disney park in their country. So scalpers will probably fleece collectors on ebay.
Go to the official Hasbro product page!
Update: The link may no longer work and it appears the page was taken down again. Here is a screenshot of the page: