Japanese Santa Claus came to me today and brought me a present from Japan. How nice of him! In the package was the brand new S.H. Figuarts Princess Leia, as seen in A New Hope. Click through for a few photos and some general thoughts about the figure!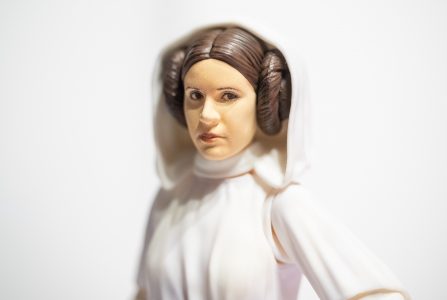 Without much further ado let's jump right into the photo many of you might find most interesting. How does SHF Princess Leia compare to the previous Black Series efforts by Hasbro?
As you can see SHF Leia is in perfect scale. Prinzessin Olga von Klonhausen (the one to the right) is somewhat hunched over and appears to be shorter than she is. From a pure aesthetic point of view the plastic robes used by SHF beat the soft goods used by Hasbro. Soft goods will never crease and wrinkle realistically at this scale. Not pictured here is Leia's hood hanging down her back. And while Hasbro's hood is simply terrible, the SHF hood is sculpted beautifully.
And how does SHF Leia compare to photo real Hoth Leia?
As you can see the sculpts are very similar, at least to my eyes. I would give Hasbro the edge here, but just a little bit. As is usual the case with many SHF figures something seems to be slightly off in photos. I can guarantee you that in real life and not in extreme macro shots, the figure does look a lot like Leia. But Hasbro clearly has the somewhat better sculptors. SHF Leia seems to also have a fleeting similarity to Millie Bobby Brown (11 on Stranger Things), but then again, I do think Millie could easily play a young Leia, so…
Now, SHF Leia does come with an alternate face plate. To swap faces you first have to remove the hair buns, which is done easily, then you have to pry apart the head until the face plate comes off and then you can swap the face, put the buns back on (you can only put them back on one way, so no worries) and you're ready to go. The alternate face has Leia glancing sideways which is something different. But the overall facial expression is very similar. But the alternate face can be used for Leia glancing around corners, looking if Stormtroopers are in her way.
You also get an alternate hood, to swap the hood you need to remove the head first, then you can pull off the hood, which is a separate piece. It's quite well done, there are almost no gaps and it looks quite seamless.
Now, with SHF Leia using plastic robes articulation is one concern. I can tell you that Black Series Leia has the better articulation. SHF Leia's elbows can bend 90 degrees, but Black Series Leia with her double elbows easily tops that. Leg articulation is very similar though.
The plastic robes are quite pliable and you can get Leia in various poses but the plastic robes will be in your way eventually if you want Leia to give several Stormtroopers a roundhouse kick. Now, she was not the super dynamic action hero in A New Hope and I would say for most purposes in your display SHF Leia's articulation is fine.
SHF Leia can also kneel or bend over and it still looks quite nice, of course you can have her kneel or bend over only so much before the robes get somewhat in the way, but for most purposes it should be alright. As a bonus they help you balance the figure, so Leia doesn't topple over if bent over:
And this is from a little bit later in the movie: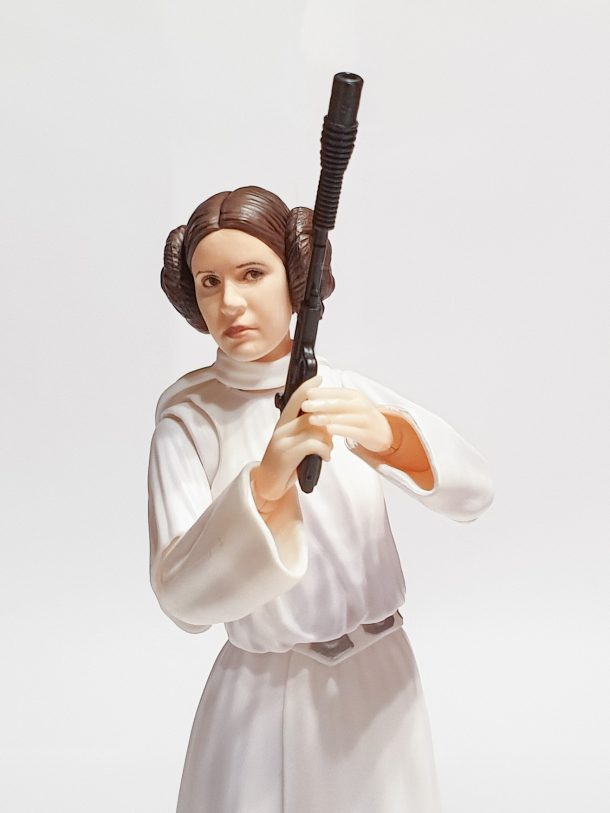 Princess Leia was the last member of the A New Hope core team. SHF gave us all the heroes and with Darth Vader the main villain. Figuarts can now move on a bit and focus on Empire Strikes Back perhaps. We are in desperate need of an all new Bespin Luke, for example.
All in all I am very happy with SHF Princess Leia. Of course there are things to nitpick. For example, Leia's lips are not red enough and maybe some of the blush on her cheeks is missing. Sculpt is really good, in my opinion, not 100% perfect by any means, but pretty close and in hand she looks absolutely like Leia. But Hasbro's Hoth Leia most certainly has the edge here. But the direct competition is far worse in the looks department, even the somewhat improved Black Series A New Hope Leia can't hold a candle to the SHF version. And the less we talk about ANH Leia 1.0, the better.
If, when you click any of the photos to see the large versions, you find Leia's face to be grainy etc that's because SHF figures use a similar approach as Hot Toys, they add some grain to the skin texture which looks absolutely horrible in extreme close-up photos, but when you view the figure with your own eyes the grain blends in and makes for a quite convincing complexion. The skin looks much less like plastic (even Hasbro's photo real faces still have that plasticky look) and much more like real skin.
In addition to the extra face and hood parts, SHF Leia also comes with her signature blaster (all black) and the E-11 Stormtrooper blaster (you know how it looks). She also comes with 3 sets of hands. One relaxed set, one set with trigger fingers left/right and one set of hands to support the E11 blaster.
In my opinion this is by far the best A New Hope Leia. And even when or if Hasbro rereleases their Leia in the Archive line with photo real face SHF is still something to consider. It all depends on prefences. Plastic robes look infinitely better at 1/18 scale. But they hinder articulation somewhat, but as said before, I think SHF Leia has sufficient articulation for most things that you need her for.