The SyFy website has a new article about Star Wars Resistance which reveals some interesting tidbits about the show. Click through for more details!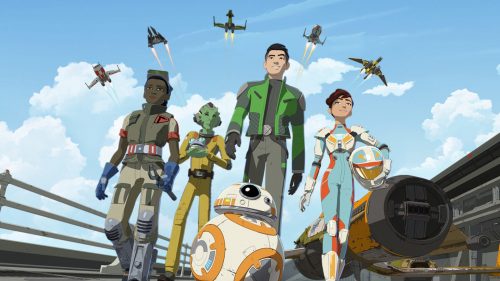 The most important information from the article is that Resistance will actually overlap with the events in The Force Awakens. That could mean the show is heading towards a furious season finale, starting slowly (there is no greater conflict at all at the beginning of the show) only to raise the stakes as time progresses. We did get to see Starkiller Base in the recent trailer, maybe we'll also get to see it in action when events in the show overlap with the movie.
But this also means that a potential second season would probably take place after The Last Jedi, which could provide us with a sort of prequel to Episode IX. But we'll have to wait and see.
The show will definitely feature lots of racing, according to the article, we already gleaned that from the various trailers.
And Resistance doesn't shy away from inside jokes and hidden references to previous movies that only adults will catch. For example, Greg Proops, who voiced one half of the pod race announcer in The Phantom Menace, will voice the race announcer in Resistance, but as a different character named Jak Sivrak, which itself is a play on the name of the Wolf Man in the Cantina on Tatooine.
So maybe Resistance is more than it seems to be on the surface, not just a show for kids about daredevil racers, but it might actually provide meaningful background to The Force Awakens and the sequel trilogy era. We'll know more very soon. The pilot episode airs this Sunday.
Read the SyFy article here.