More specifics by clicking through, but essentially… Do this on shopdisney.com: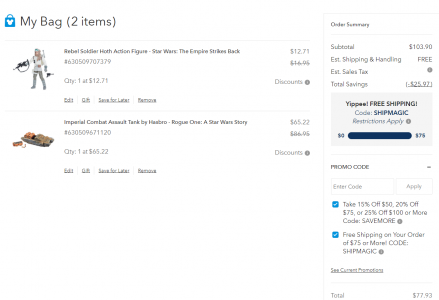 ShopDisney has a pretty great deal on the Hovertank if you do the following. By adding the tank to the cart, you get one promo-code for either free shipping (SHIPMAGIC) or 20% off (SAVEMORE). If you add like $7 to the cart, though, you get both coupon codes. I added a TVC Hoth Soldier cause it's probably the best figure available right now (unless you like 5poa).
In total, you get the hovertank, and a Hoth soldier for $77.95 – less than the normal $79.99 MSRP of the tank itself!