Admittedly, I was a big fan of MADTV during its original peak in the early 2000s. There was a sketch called Lowered Expectations which focused on a dating service pairing less than ideal prospective dating matches with others. It was funny, but after the discussion about the TAC Darth Revan, and its impending inclusion in The Vintage Collection, this sketch rushed back from my longterm memory. I realized yesterday that the collecting community has changed. Vastly changed. What we once considered unacceptable is now viewed as alright, and if you have a critical opinion about it, it is found to be whining and complaining. So I thought about it genuinely, and perhaps some of those critics are correct. I was inspired to cobble together a list of other figures that are high-priced on the aftermarket, or other figures that look good and deserve to be included in The Vintage Collection. Click through and let's lower our expectations and see some examples of what might work in The Vintage Collection in the years ahead!
1. DARTH SIDIOUS (from The Clone Wars [Red] line): One of the rarest figures that Hasbro ever produced, Darth Sidious still commands triple digits on the aftermarket. A straight re-release of this figure in beautiful vintage Kenner packaging would put those scalpers out of business.
2. AHSOKA (from The Clone Wars [Shadow Of The Dark Side] line): Hasbro gave us a beautiful realistic version of this character in both The Vintage Collection and The Black Series [Phase III] lines, but they never got out the animated version in a quantity that met demand. They should dig out the tooling and get this animated version of the character out as soon as possible. She costs too much on the aftermarket.
3. DARTH MALAK (from the 30 (77-07) line): Now that Hasbro is reissuing the Darth Revan figure from the "Expanded Universe" wave of 30th anniversary figures, they should get out the other two favorite characters from this wave, so collectors don't have to pay aftermarket prices anymore. Darth Malak with swivel elbows and minimal lower leg articulation is destined to make a positive impact on The Vintage Collection as well. NO need to retool this character with its impressive torn jaw and signature lightsaber already done.
4. PRE-CYBORG GRIEVOUS (from the 30 (77-07) line): He was terrible in 2007, but who cares? He costs a fortune on the aftermarket now. No need to get him accurate to the reference materials, just get him out ASAP! Reproduce the old sculpt and slap him on The Vintage Collection packaging. It will be oh-so-good.
5. JEDI TEMPLE GUARD (from the Rebels line): Here is another figure reaching upwards of $100 or more on Amazon and eBay. Apparently, people like this sculpt very much to pay these prices, so let's get this 5POA figure into The Vintage Collection stat. As a lightsaber wielder, we don't need any more articulation than the standard five points given to him, so let's make this snappy and smooth and get him re-released.
6. COLONEL WULFF YULAREN (from The Saga Collection line): Back in early 2007, Hasbro released a cool, albeit outdated, multipack called Death Star Briefing which included many of the Galactic Empire's leaders available for the first time ever in this set. Hasbro sadly never re-released any of them either. As you'd expect, the multipack goes for crazy money on the aftermarket. There's no need to redo these figures because although they come with most swivel articulation (and no articulation below the hips), the face sculpts are lovely. Heck, most of us will keep these carded, so there is less reason to update the figures. Let's kill the aftermarket value on the Death Star Briefing set, Hasbro!
7. GENERAL TAGGE (from The Saga Collection line): For all the same reasons as Colonel Wulff Yularen. Come on, Hasbro! Show those scalpers!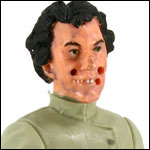 8. DANNIK JERRIKO (from The Original Trilogy Collection line): Hasbro gave us three cool cantina aliens as The Original Trilogy Collection began winding up in preparation for the Revenge Of The Sith line. They all go for a premium on the aftermarket today, but I am especially fond of Dannik Jerriko. He needs The Vintage Collection status, and I don't see why we'd need to update this figure in any way. He is excellent as is.
9. DARTH MAUL (MANDALORE) (from the Star Wars [Darth Vader/Revenge Of The Sith] line): Hasbro gave us some never-before-released characters in the 5POA line. Darth Maul (Mandalore) was one of them. We need this figure updated for The Vintage Collection, but as most of us probably won't open up this figure to play with him, let's get the 5POA version in TVC packaging. Shh, no one will know.
10. AT-AT DRIVER (from the Rebels line): The AT-AT Driver from the Rebels Saga Legends line has a superior sculpt to the 2009 Legacy Collection version in most ways. He isn't super-articulated, but who cares? He looks infinitely better. Besides, we need Hasbro to address the AT-AT Driver for The Vintage Collection so we can check him off of our wish lists. They have a 6″ AT-AT Driver that they can shrink down and give us the definitive 3.75″ SA AT-AT Driver, but why bother. This one is just fine. Maybe 5POA is OK after all.
Honorable mentions: 2004's VOTC Lando Calrissian, 2004's VOTC Luke Skywalker, 2004's VOTC Princess Leia Organa and all of the figures from the Entertainment Earth exclusive Mandalorian sets.