It was already reported that Alden Ehrenreich let it slip that he has a three movie deal with Lucasfilm. But the source article, a very long cover story by Esquire, actually has many more interesting bits and clarifications about Alden Ehrenreich and the Solo movie production. And they contradict previous reports from anonymous sources. Click through to read more!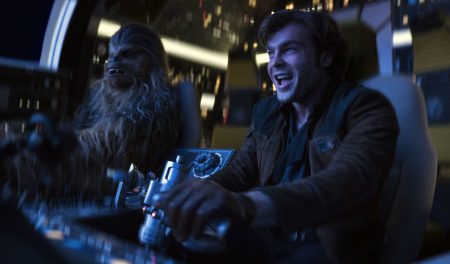 The Esquire article sheds some more light on the casting of Alden Ehrenreich as Han Solo. For the article Lord & Miller replied to some questions via email and they had to say the following:
"The outlaw thing is an act. We wanted someone who presented as a pirate but had a big heart underneath," Lord tells me via email. "An impression of Harrison Ford would have felt like an extended Saturday Night Live sketch," Miller adds. "We wanted someone who could evoke the spirit of the iconic performance we all remember while bringing something new and fresh. We talked a little bit about how Chris Pine, playing Captain Kirk, didn't do a Shatner voice, and brought his own spin to the character while still evoking the vibe of the character. We felt Alden did the same with Han Solo."
Alden Ehrenreich was the first actor to audition for the role. Lord & Miller say close to 3,000 actors were looked at, Kathleen Kennedy says it was more like 1,600 actors, but still, they looked at many other options but Alden Ehrenreich stood out from day one.
"Alden, remarkably, remained the person to beat from day one," Miller says. "We brought him in many times, pushed him, tried to test his range, and he was always up for it and brought something new, with a great sense of humor."
"He felt classic and contemporary all at once," says Lord. "He seemed like a tough guy who was really scared." According to Kennedy, he also aced a key challenge: a screen test with Chewbacca.
Ehrenreich confirms in the interview that Lord & Miller had a more improvisational approach to the movie and that no one really knew what the end result would look like.
He also debunks the rumor that he approached Lucasfilm with concerns over Lord & Miller. He never did that, so he says.
And then Alden Ehrenreich addesses the rumor that an acting coach was hired to help with his performance. The article says this:
"She [acting coach Maggie Kiley] was part of conversations that happened for a couple weeks at one point," Ehrenreich says, "but that was basically it." (Lord and Miller say that Kiley is someone they'd worked with on previous films and that they brought her on Solo as a resource for the entire cast as well as themselves.)
Also, Ehrenreich says no one on set applauded when they learned Lord & Miller were fired.
Alden Ehrenreich also talks about his meeting with Harrison Ford, it was Ehrenreich who thought it's a good idea to reach out and meet Ford. They didn't actually talk about Han Solo and Star Wars that much. and Ehrenreich says this about the advice he received from Harrison Ford:
"Tell them that I told you everything that you needed to know, and that you're not allowed to tell anyone."
Director Ron Howard also talked to Harrison Ford. And he has to say this:
"He admitted that he was more forthcoming with me than he was with Alden, because he didn't want to hamstring Alden," says Howard, who spoke with Ford after taking over Solo. "He thought it was so important that Alden find a character, within the scripted Han Solo, that he could connect with and understand, and not be limited by his advice in any way."
The article goes on and talks about Alden Ehrenreich's background, how Steven Spielberg came to notice him and various other things. It's an interesting read well worth your time, even though it will take a while to read it all.
Anyway, some may feel this is more damage control by Lucasfilm, but on the one hand we have rumors and set reports by anonymous sources, on the other hand we have the star of the movie giving his view of things plus Lord & Miller and Ron Howard adding some details as well.
It'll only be another month before we know how it all turned out.
Source: Esquire cover story