In almost perfect timing with the film's official trailer release, we received special permission to feature a new Solo: A Star Wars Story product to share with you early. Click through for an advanced look at Han Solo's Landspeeder with exclusive Han Solo (Corellia) figure. The review is coming soon. In a nutshell, Hasbro brings back old "battle-damage" technology that was first introduced in the Star Wars "Saga" line. The front end of the speeder is made from a pliable, albeit tacky, rubbery plastic that caves in if you press on it. It also triggers an action feature that pops Han Solo's seat up and sends him flying. This vehicle is a sweet release and sure to be a big part of Solo: A Star Wars Story. (more….)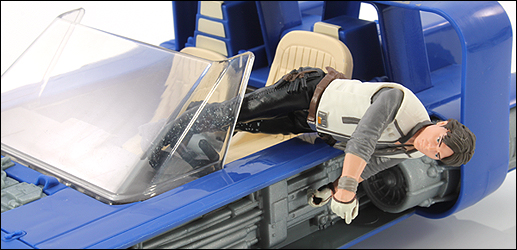 Click HERE for the FULL GALLERY.
Our sample was provided by Entertainment Earth and can be pre-ordered using the links once you click through. We have also offered other links for new products that go on sale today too. Please note: links may not be active immediately. Keep checking back, and we'll be sure to post an update when they're live.
HSE0326A Star Wars Star Wars Solo Class B Vehicles Wave 1 Case
https://www.entertainmentearth.com/prodinfo.asp?number=HSE0326A&id=TH-406049349
Star Wars Kessel Run Millennium Falcon with Han Solo Figure
https://www.entertainmentearth.com/prodinfo.asp?number=HSE0320&id=TH-406049349
Star Wars The Black Series 6-Inch Action Figure Wave 16 Case
https://www.entertainmentearth.com/prodinfo.asp?number=HSB3834R&id=TH-406049349
Star Wars The Black Series Han Solo 6-Inch Action Figure
https://www.entertainmentearth.com/prodinfo.asp?number=HSE1200&id=TH-406049349
Star Wars Black Series Range Trooper 6-Inch Action Figure
https://www.entertainmentearth.com/prodinfo.asp?number=HSE1204&id=TH-406049349
Star Wars The Black Series Lando 6-Inch Action Figure
https://www.entertainmentearth.com/prodinfo.asp?number=HSE1206&id=TH-406049349