SH Figuarts has revealed its first two new figures for the upcoming Solo: A Star Wars Story: Chewbacca and the Mimban Stormtrooper! Click through for more photos and details!
Both Hasbro and SH Figuarts revealed their respective versions of the Solo movie Chewbacca today.
Here's a close up of Chewie's portrait with goggles:
Chewbacca will come with a total of three different heads / face plates. The second alternate expression gives you a roaring Chewie:
Chewbacca also comes with a neutral expression. Here he is compared to the just revealed Black Series Chewbacca: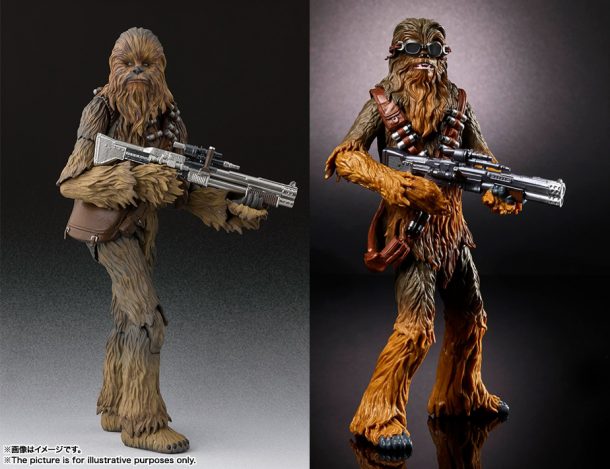 The two figures use very different head sculpts, the coloring seems to be very different too, although it's hard to tell how accurate the colors for the Black Series Chewie are in the heavily photoshopped image. Also, it seems as if Hasbro chose a more "windswept" hairstyle for Chewbacca. Chewbacca does, in most of the scenes in the trailer, more or less look like the SHF version, however, in the two action scenes briefly glimpsed, he seems to have the style the Black Series shows.
SH Figuarts Chewbacca has a tentative release date of June 2018. Price and pre-order date are still unknown. But pre-orders should start soon.
Next up is the Mimban Stormtrooper:
The figure comes with a plastic cape. The sculpt seems to be the most recent iteration of the SH Figuarts Stormtrooper, which means the crotch piece is somewhat too large.
The figure from behind and a good look at the sculpt of the cape and weathering: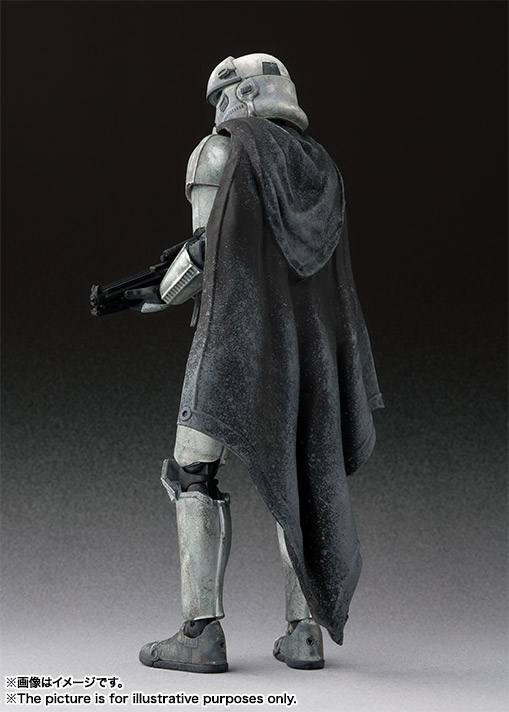 And two handed poses are no problem at all for the SH Figuarts Mimban Stormtrooper:
Now, there is also a Black Series Version of this trooper. But at least in the promo photos the SHF version looks really great. You can expect the usual extra hands as accessories. The Mimban Stormtrooper also has a tentative June 2018 release date. Price and pre-order date are also unknown, but this info should be released soon.
I suppose more Solo related SH Figuarts announcements will come soon.
Are you excited for these figures? Which version of Chewbacca do you like more? The SH Figuarts Chewbacca seems to be mostly based on the previous release, however with an added new headsculpt with molded goggles. Do you like the more tidy SHF hairstyle or the somewhat more wild and unkempt Black Series style? I think both figures look fantastic. But I do prefer the much better articulation of SHF Chewbacca.
And will you go for the Black Series Mimban Stormtrooper or the SH Figuarts version?
You can find some more photos on the Japanese Tamashii Nations website (in Japanese only).