ALL ABOARD! You did it! Whether it was FOMO, last minute desperation, a strategic plan to order at the last minute or a spare for a rainy day, the first HasLab campaign is now over. Jabba's Sail Barge (The Khetanna) is coming to your collection February 2019 (approximately), but only if you backed one. A low edition size of 8,810 units of Jabba's Sail Barge is all that will be produced for USA and Canada residents. If you passed on this expecting to find it at Walmart or TARGET or Amazon on clearance, (and you wanted one) you're going to be a very, very disappointed collector.The aftermarket will be your only choice, and we know how things on eBay go. Congratulations to everyone and we know we all cannot wait for Hasbro's continuous updates on this project's progress.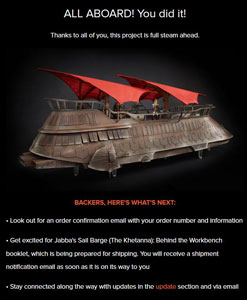 UPDATE: It looks like Hasbro is auditing their orders and the final number of backed Sail Barges keeps changing (minimal/negligible differences). It seems like 8,810 is the final number.

You did it! Thanks to your overwhelming support, Jabba's Sail Barge (The Khetanna) campaign was successfully backed. We could not have done this without you. Now it is our turn to get to work making this dream product a reality.
In addition to your order confirmation email, you will receive a shipment notification email once Jabba's Sail Barge (The Khetanna): Behind the Workbench booklet is on its way to you. At that point, we will also charge your preferred payment method. If your card is declined (this happens from time to time), you will receive an email letting you know that we cannot process your order. You will have 3 business days to call our Customer Service team to update your information.
As we work towards an estimated sail date of February 28th, 2019, we want to stay as connected to you as possible. We will be sending periodic email updates (make sure you are subscribed!) as well as keeping this section updated with the latest photos and information direct from the development team.
Should you have any questions or concerns, please don't hesitate to reach out to our Customer Service team at 1-800-408-0052. We couldn't be more excited and are thrilled to be on this journey with you.