The JTA Holiday Gift Guide (and Santa Hat Porg) is back with Part II and it's filled with great gifts for Star Wars fans of all ages! So come inside (droids are welcome too!) and take a peek at what we have in store this time around!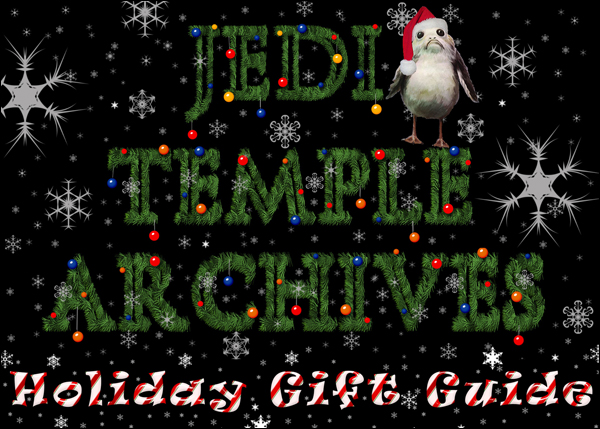 foundmi Star Wars Bluetooth Tracker
The first item we have is Star Wars Bluetooth Trackers from foundmi. These trackers surprised me in just how great they really are. Use the included keyring and put it on your keys to EASILY find your keys whenever you lose them. The app (for iOS or Android) sends a signal to your foundmi and starts loudly beeping. Not only that but in the app you can view GPS to see EXACTLY where your keys are. You can also use the included adhesive strip to attach your foundmi to your laptop or any other device. Uh Oh, you can't find your phone and it's on silent? No problem! Click the button on your foundmi keychain and your phone will start ringing until you find it! Not only that, but you can use the button on your foundmi to take a selfie. This little thing shocked me because I had NO idea how many features it actually had.
Need more incentive? Well, JTA has teamed up with foundmi to give you an exclusive promo code. Use Promo Code: JTA5 at foundmi.com and get $5 off of your purchase. It comes in so many Star Wars characters, there's one for every fan. This thing has helped me more times than I could even count and it will make a great stocking stuffer!
LEGO Star Wars First Order Heavy Scout Walker (The Last Jedi)
Next up is the LEGO Star Wars First Order Heavy Scout Walker from The Last Jedi. I had an absolute BLAST building this set, but even more is the playability and display possibilities. This set has a lot of display abilities at a reasonable price. It comes with 4 minifigs (3 First Order and one Resistance Trooper) which makes for excellent display options on its own or combined with other sets. The walker itself has great movement and great features. Thanks to LEGO, we had the ability to check it out completely and do a full review. So be sure to check out the review for the First Order Heavy Scout Walker. At $39.99, this is a great piece for LEGO fans and Star Wars fans of all ages. You can find it here at Walmart and Amazon
The Bradford Exchange Jedi Master Yoda Tabletop Lamp
This next gift is something really special in my opinion. Have you ever had trouble displaying your Star Wars items in your home because maybe there's a special someone who isn't too fond of seeing Stormtroopers and Droids all over the house? Well, this beautiful Jedi Master Yoda Masterpiece Tabletop Lamp from The Bradford Exchange can make that problem disappear. This lamp is beautifully cold-cast in bronze with hand-finished touches to make this lamp shine (no pun intended). The Bradford Exchange was nice enough to provide us with a sample, so be sure to check out the full Jedi Master Yoda Masterpiece Lamp review. This exquisite lamp is a wonderful gift for that Star Wars fan in your life or even a great gift for yourself. Let this Jedi Master mind-trick your loved ones into seeing something so great that it is necessary to display. You can find this lamp at The Bradford Exchange (which has an easy payment plan) or on Amazon for $179.99.
Quarto Knows Learn To Draw: Star Wars Art Kit & Book
The next Star Wars gift idea is great for anyone who loves to draw or wants to start; young or old! Quarto Knows brings to you the Learn to Draw Star Wars: Drawing Kit and Book. Quarto Knows also produces a great line of models (you can see the R2-D2 in Part I) that light up and have sounds. They have Star Wars items for those who like to be creative and they're wonderful products! Quarto Knows was kind enough to send us a sample and my 7-Year-Old niece had an absolute blast learning to draw Princess Leia, Artoo, Luke, Yoda, Vader, and others. However, she wasn't enjoying the fact that she had to wrestle me for control of the art book because I was having just as much fun as her (probably more if I'm being honest).
The kit comes with everything you need to get started: Colored Pencils, markers, a sharpener, and a nifty R2-D2 eraser. The book is full of Star Wars characters that everyone loves to draw and it shows you in stages how to do it. Right now, you can grab this from Amazon for only $16! Also, JTA has partnered with Quarto Knows for a special giveaway, so be sure to check that out also if you want to win a great prize!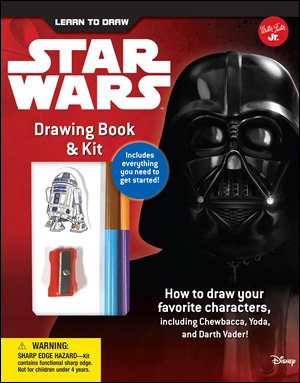 That does it for Part II of our Jedi Temple Archives Holiday Gift Guide 2017! Don't worry, there's more to come! Be sure to check back next week when we wrap up our Holiday Gift Guide. There are some great things that you won't want to miss. And be sure to check out Part I if you haven't yet.