It's that time of year again! That magical time of year where our hearts get fuller while our wallets gets emptier. It's also the time where you look to find the perfect gift for that special Star Wars fan in your Galaxy not so far away. Well, JTA is here to make it a bit easier with our Holiday Gift Guide! In it, you'll find some great Star Wars gifts for all the Star Wars fans in your life from younglings to the 900-year-old Jedi Masters. Click through to see what we have in store for Part 1 of our guide!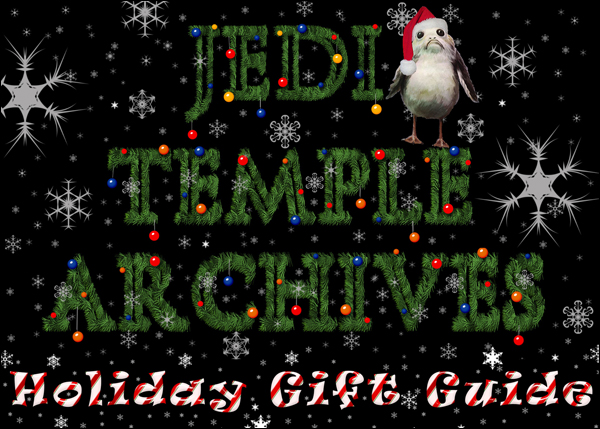 Hero Droid BB-8 Fully Interactive Droid
First up, is the Spin Master Hero BB-8. This may be the most overused phrase ever, but this is DEFINITELY the droid you're looking for. Everything about this droid is amazing from its near-life-size stature to the lights and sounds. This BB-8 blows away those other smaller remote control droids and right now, it's on sale at Walmart for only $129! That is $100 off of it's regular price.Thanks to Spin Master, we are able to provide a full review on Hero BB-8. This is a great gift for Star Wars fans of any age or even a great gift for yourself. I know I haven't stopped playng with it since I got it.
LEGO Star Wars Buildable Figures Praetorian Guard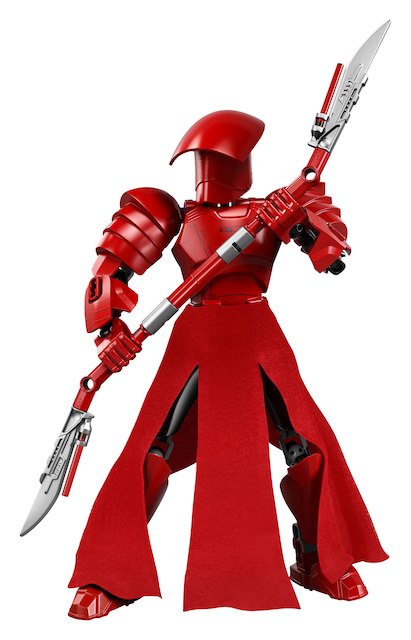 Next up is the LEGO Star Wars Build-able Praetorian Guard. Now, I wasn't a fan of these when they originally announced build-able figures, but I was actually thoroughly impressed with the first line-up and the Praetorian Guard is even better. This Star Wars: The Last Jedi Praetorian Guard figure has some excellent articulation, multiple uses of his weapon (basically two-in-one), and best of all his robe is fabric and sits nicely. LEGO was kind enough to send us one, so be sure to check out the full review of the LEGO Praetorian Guard Buildable Figure. This figure is great for Star Wars and LEGO fans young and old. It's so great to be able to actually BUILD your own figure and you can get this for only $20 right now from Amazon!
Star Wars Fijix Super Spinners
This next gift suggestion is, what I feel, an ugraded version of a popular toy. EVERYONE has heard of fidget spinners at this point, but these fidget spinners are much more fun and lets face it, look much cooler than the others. Uncle Milton was graceous enough to send us a few samples of their newest Star Wars Fijix Super Spinners and a Star Wars Fijix Cube. The unique designs of this spinners allow them to spin MUCH longer than typical spinners, plus, they feature Star Wars Characters! I was able to play with the R2-D2 and Stormtrooper spinners for a brief second before my niece tore them from my hands! She LOVED the fact that Artoo's dome was featured prominately. She also loved the Darth Vader Fijix Cube that features all types of clicks, sliders, and iconic Vader looks. I think these would be excellent stocking stuffers for any Star Wars fan out there, plus these are SAFE spinners unlike some of those knock-off brands out there. You can find these at some Walmart and Target stores for about $7.99, but they'll be listed on Amazon and other sites really soon. So keep an eye out!
Deluxe R2-D2 12″ Model And Book Combo
Next up is this fantastic Model/Book combo. This Model Kit comes with the materials to build a 12″ tall R2-D2 out paper. Now, I know what you're thinking…paper? Really? This is more like thick cardboard paper, but it's pretty amazing! You only need regular old white glue and maybe a little paint brush to apply it. Best part? It comes with electronics that make him light up and make 3 Artoo-Detoo sounds and noises. I was skeptical, but this is actually a really fun product and it came out great! Becker & Mayer was kind enough to send us a model for ourself to build and it was great. This isn't a one and done model either, this is a project. It takes some time, which I found enjoyable. It wasn't a 2 minute model, you actually put some effort in and it is TOTALLY worth it. The lights look great and the sounds are amazing. This also comes with a book that traces all of Artoo's adventures and heroics from the very beginning. It includes great story and images from the movies. This is a great gift for any Star Wars fan or collector to build or I see this as a great project to do with the younglings! They'll really enjoy it and it's on sale right now for only $16.99 at Target! I enjoyed doing this model so much, I am looking forward to building another one soon.
NVIDIA TITAN Xp Star Wars Collector's Edition
To wrap up the first part of our JTA Holiday Gift Guide, we finish with the NVIDIA TITAN Xp Star Wars Collector's Edition. I see a lot of you saying, "The what with the what???" This pair of Exclusive Star Wars High-End Graphic Cards are phernomenal and a great gift for any Star Wars fan that loves his PC or is looking to construct their own. NVIDIA combined an amazing Graphic Cards with the look and feel of the Star Wars Unvierse. It comes in two different variations; The Jedi Order and The Galactic Empire, each with their own unique look. This baby will set you back $1,138.00 (see what they did there?), but it is extremely worth it if this is something you're in to. You can order the Jedi Order Card or the Galactic Empire card from NVIDIA. Be sure to check out the full NVIDIA TITAN Xp Star Wars Collector's Edition Review that covers everything from a Spec Comparrison to all the little Star Wars details NVIDIA added to make this so special.
That'll do it for Part 1 of our Jedi Temple Archives Holiday Gift Guide! Be sure to come back and see what other Gifts we suggest for the Star Wars fan in your life and have a wonderful Holiday Season to everyone!