Do you remember what is was like to want more and more Star Wars because there wasn't enough? We were lucky when we got the Expanded Universe novels and for a lot of us, that was (and still is) the Sequel Trilogy. Now we have the 'new Canon', and A LOT of it! So much so that it's hard to keep track of it all! Well, that's where Youtini comes in. Click through to read more about this great new venture.

So what exactly is Youtini? Well, very simply, Youtini is the first ever Star Wars book subscription box! Every month, Youtini will ship Star Warsbooks right to your doorstep along with official STAR WARS merchandise & Youtini-branded gear. What I really like about Youtini is that it includes both Legends AND Canon materials.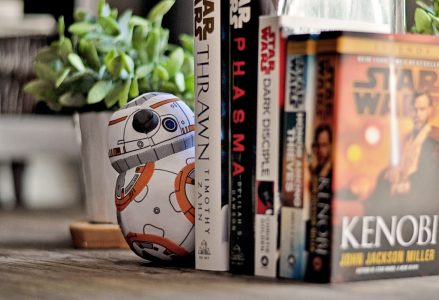 Right now, Youtini is in the pre-launch phase which means they're in the process of collecting leads, gathering a following on social media, and building anticipation for their official product launch on December 22, 2017. At that time, they will begin taking paid subscribers and announce their official product lineup. 
Their first shipments are planned to go out sometime late January or early February. This is because of book release schedules that are planned following the premiere of The Last Jedi. Below you can take a look at what they will be offering:
Youtini plans on offering three different products at launch on a monthly-basis:
The Youtini Box priced in the $35-40 range which includes: 
The most recent STAR WARS Canon novel released within the last 30 days
A STAR WARS Legends novel that fits our theme and perfectly pairs with the previously mentioned Canon book
A curated guide outlining how each book fits into the big picture and STAR WARS timeline, backstories to the books, and our reasoning behind choosing them for this month's box
Personally-selected STAR WARS merchandise
Specialty and limited edition Youtini branded gear
The Youtini Bag priced in the $18-25 range: Either Canon or Legends Edition which includes:
Either the same Canon or Legends book we send in the Youtini Box that month
The same guided reading guide materials and low scale Youtini-branded merchandise. 
However, we should note that their product offering may change based on customer demand during the Pre-launch series. Youtini is VERY open to ideas from their potential customers, which I think is very important. Following the Launch, Youtini will begin exploring other product offerings including graphic novels, comics, toys, and other collectibles.
I know! Another Subscription service??? Although subscription services seem to be all over the place, some of them are actually excellent. I find this one specifically to be a great product for Star Wars fans that follow the novels and other publications. It's so crazy how frequently new issues, novels, and products are released that this makes it much easier to keep on track. And who doesn't like saving money?
I can tell you that even though Youtini is in the pre-launch phase, they ARE listening. On their site right now, you can take a survey which will help them to understand what the fans want. Youtini wants to make this product something that the fans actually want, and that is why they are listening! I can also assure you they will be checking out the comments you leave, so be sure to leave CONSTRUCTIVE comments. Keep it civil and on topic. No need for rude and unpleasant comments. That said, speak your mind and speak honestly and let them know what you would like to see and what could make their product even better.
Be sure to check out Youtini and take the customer survey. If you have any questions, leave them in the comments and i'll be sure to get you the answers if I can, or perhaps the Youtini CEO may answer them himself!