This is not something we as collectors are unfamiliar with. Walmart has done this before, but just look at the egregious prices Walmart is selling Wave 2 at. These have been coming in and out of stock at this price since the announcement came of the discontinuation. What's worse, they sell out within minutes. This is who we had to rely on for our 3.75″ SA figures for awhile…thankfully that is ending. Click through to see more images.
Unfortunately, I lost the images of the Stromtrooper (49.99) and Jawa ($33), but you can see the price they sell them at on their respective pages.
Sand People $46
Chewbacca $44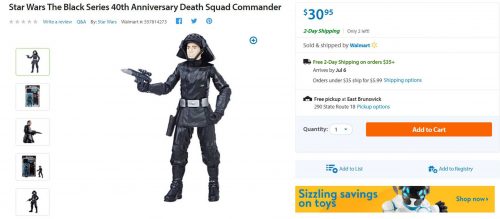 Death Squad Commander is the "cheapest" at $30.95
I find this to be so ridiculous that they are doing this. Meanwhile, Amazon still sells them at $19.99 when they pop in and out. This is something Hasbro should look into in my opinion. I do understand that they are able to set their prices, but once they got the notice they are out of production they increased the prices significantly. This would be similarly compared to when Hurricane Sandy hit in NJ and gas stations decided to double their prices overnight (that's illegal by the way). Yes, I know toys and action figures don't equate to a necessity, but taking advantage of a situation like this as a major retailer who constantly promotes the "lowest prices" and all their wonderful ethics in their commercials is just disgusting to say the least.
What are your thoughts on this scenario? Is it okay that they do this since it's their right as a retailer or is this just absolutely unacceptable? Let us know your thoughts in the comments below.