In case you weren't aware, new Forces of Destiny doll images made their way up on Amazon a couple of days ago (only if you dig long enough!) and also the writer of the series, Jennifer Muro, had some interesting things to say on Star Wars most inspiring women. Click through to see more on the images and the interview.

After some digging, I was able to find the Amazon pages for some of the Forces of Destiny dolls, so feel free to bookmark them if you are interested in getting them when they come out. Here are some of the images.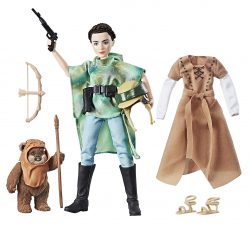 Be sure to click the links in the names to access the Amazon product page and bookmark it!
Next up, Forces of Destiny writer Jennifer Muro discusses the most inspiring women of Star Wars in an interview with DenOfGeek.com.
"Going into it, I want to represent everyday heroism and the heroic moments that shape these characters in different ways," Muro said. "Leia would handle a situation one way, Ahsoka another way, Jyn another way. That was the goal all along."
–Jennifer Muro
She discusses how writing Leia in the Original Trilogy is hard to beat since we've been with her for so long!
"We've lived with [Leia] longer than any other character. It's about keeping true to her voice and to Carrie's voice."
–Jennifer Muro
You may or may not already know that all the original actresses will be providing the voices for their characters such as Daisy Ridley for Rey, Felicity Jones as Jyn Erso, and even Lupita Nyong'o as the narrator Maz Kanata. but since we unfortunately lost Carrie Fisher, voice actress Shelby Yung will be voicing the legendary Princess.
So what do you think about these Forces of Destiny dolls? I think they'll be a great collecting aspect for a lot of young Star Wars fans. My niece has already begged me to make sure I get her them. How about the cartoon series? Let us know your thoughts in the comments below and be sure to check out the full interview with Jennifer Muro here where you can also see a clip of Rey's cartoon.