Tag Archives:
TVC
StarWars.com has opened up audience choice voting in categories of long video, short video, photography, and visual art. One of our frequent readers/commenters Matthew C. has a photo in the final voting stages, which must be quite exciting! I've had that specific photo on my work desktop background for some time, so I appreciate that it is getting some official recognition. Be sure to check out some of the remarkable entries here, and cast your vote today! Click through for more action figure photo submissions in the finals.
Full Story
More specifics by clicking through, but essentially… Do this on shopdisney.com:
Full Story
In our worry over the fire going out on 3.75″ collecting Paul discussed earlier, there is a spark that will light the fire that may inspire you once again. It definitely gives me some hope for upcoming figures to come!! Click through for the full video…
Full Story
I found this image floating on Facebook. It was sourced from another group entirely so as of yet I don't have the original source for this image. As a big fan of the Star Wars Nerf line (not added to ships…) I think this is a great set. If you look a little closer you may find something else of interest to TVC collectors. A little more to the left… a little more…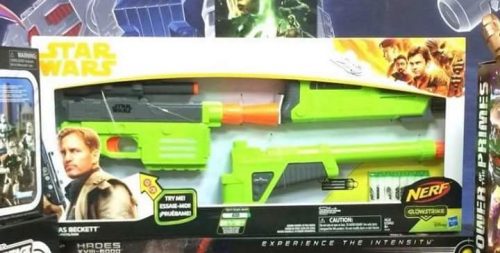 To be honest, Battle Packs were hit or miss. Ones like the Mandalorian Warrior pack (please send more Mandos) were much more popular than ones like the Battle of Geonosis. Would a few battle packs of articulated figures be a bad thing? At least with these characters, I think a couple battle packs might do us some good. More…
Full Story
3.75″ Figures are making a comeback, but where are the droids? Just from the recent Solo trailers, there are a ton of droids that are completely worthy of a figure. Click through for more images.
Full Story
-Click HERE to return to the home page-