Tag Archives:
TARGET.com
TARGET.com has most of The Black Series [Phase III] 6″ Solo: A Star Wars Story wave in stock! Special thanks to all who wrote in about this!
HUNDREDS of toys are 50% OFF at TARGET.com and many of them are Hasbro Star Wars items. Great deals include Luke SKywalker (Ahch-To Island) and Kylo Ren's TIE Silencer. Many ore details can be found as well. FREE 2-DAY SHIPPING is also included for MOST items. Special thanks to JTA reader Jon M. for the alert!
If you still need Jaina Solo (Legends), she is once again BACK IN STOCK at TARGET.com for $19.99. Thanks to all who wrote in to let us know!
Target.com has the Resistance Ski Speeder on clearance for $11.98. Thanks to JTA reader Collin for the alert!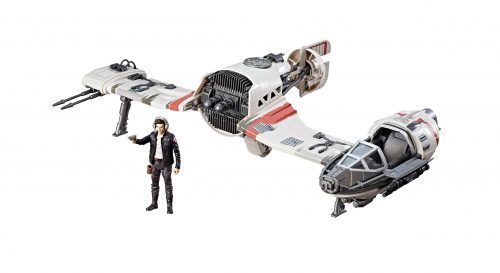 Here is another great deal! The BB-8 2-In-1 Mega Playset is marked down to $139.99 at TARGET.com, however, today only, you get 15% off and the item ships for FREE. Special thanks to JTA reader Sean. C. for the news! If you need some prompting on whether to pick up this fun set, then be sure to check out our RDR on it RIGHT HERE.
UPDATE: It's also the same price on Amazon.com as well.
If you haven't yet ordered the TARGET exclusive Emperor Palpatine/Luke Skywalker/Emperor's Royal Guard three-pack, today only you can get the set for 25% off. Discount applies as soon as item is added to cart; no promo code needed. Order it now at TARGET.com! By the way, we don't know for sure if this is really a "TODAY ONLY" sale because TARGET's offer details on this promotion are a bit ambiguous.
If you happen to still need the latest figures from The Black Series [Phase III] 6″ line, TARGET.com has many of them in stock for prices well below MSRP. Special thanks to JTA reader Mark for the alert!
-Click HERE to return to the home page-