Tag Archives:
StarWars.com
Dear Canada, you can now place your order for Jabba's Sail Barge through HasLab! StarWars.com exclusively revealed that the Sail Barge will now be available for Canadian residents as well. Go and back the Barge! StarWars.com just posted an article that contains the exciting reveal in addition to a fantastic interview with Steve Evans and Joe Ninivaggi. The interview provides an in-depth look at HasLab, the creative process, and the Sail Barge itself. Click through to read the full article!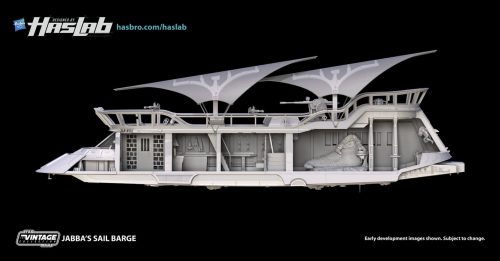 Lucasfilm has announced that Game of Thrones creators David Benioff and D.B. Weiss will write and produce a new series of Star Wars films. This new series of films will be separate from both the episodic Skywalker films and the new trilogy that is being developed by Rian Johnson. Benioff and Weiss will begin working on the new series of films "as soon as the final season of Game of Thrones is complete." Head over to StarWars.com to read the full statements from Kathleen Kennedy, Benioff, and Weiss. What are your thoughts regarding this latest announcement? Let us know!
Before he battled with the Ghost crew on Star Wars Rebels. Before he was Grand Admiral. He was just Thrawn. And we'll soon see his story in comic-book form. StarWars.com has an exclusive sneak preview of the upcoming comic!
In the lead up to the new trailer, StarWars.com has revealed the theatrical poster for Star Wars: The Last Jedi. Click through to check it out! What do you think? How does it compare to previous posters? Let us know!
StarWars.com has an exclusive look at the newly revealed Life-Size K-2SO. This will be on display at SDCC this week, and will most surely be HUGE! Get the full story after the jump!
The Star Wars Show revealed today that Star Wars Rebels season three will arrive on Blu-Ray and DVD on August 29th. For the first time, audio commentaries will be available on select episodes. Other bonus features will focus on the Grand Admrial Thrawn's introduction, Maul's fate, and the return of Saw Gerrera. Head over to StarWars.com for the full list of bonus features! 
In a stunning development, Phil Lord and Christopher Miller will no longer direct the upcoming Han Solo standalone film. They have departed the project over creative differences with Lucasfilm. The search for a new director is underway. Head over to StarWars.com to read the full statements from Kathleen Kennedy and Lord and Miller. 
-Click HERE to return to the home page-