Tag Archives:
Solo
I found this image floating on Facebook. It was sourced from another group entirely so as of yet I don't have the original source for this image. As a big fan of the Star Wars Nerf line (not added to ships…) I think this is a great set. If you look a little closer you may find something else of interest to TVC collectors. A little more to the left… a little more…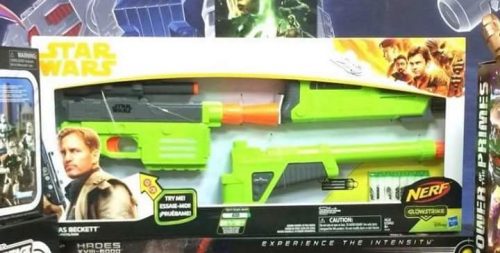 To be honest, Battle Packs were hit or miss. Ones like the Mandalorian Warrior pack (please send more Mandos) were much more popular than ones like the Battle of Geonosis. Would a few battle packs of articulated figures be a bad thing? At least with these characters, I think a couple battle packs might do us some good. More…
Full Story
Solo was a great film. It was a fun movie to watch. One thing that it did very well was the dense and diverse population of each planet and cantina visited throughout the story. Click through to see how we think Hasbro should take advantage of this new treasure-trove of characters in The Vintage Collection…
Full Story
A few days ago, I posted about how Tam Posla would be making a cameo appearance in Solo. Apparently there is another character that is in Rogue One making a background appearance. Or at least it looks the same… Click through to check it out for yourself.
If you've been having trouble locating the newest Solo toys at your closest TARGET brick and mortar, you may not be surprised to learn that when given the DPCI a TARGET employee informed me that the Solo product launch was dated for a 4/15 reset, which is after the 4/13 street date. Patience is the way of the Jedi, friends, and we may have to wait a couple days yet…
Amidst the toy reveal commotion, here is a bit of movie news. I was looking at images from the most recent Solo trailer and spotted a white and grey helmet in the background… Click through to find out more!
Full Story
The brand new Solo: A Star Wars Story Force Link 2.0 Enfys Nest swoop bike is in stock now! Hurry you can get it a whole day early!
-Click HERE to return to the home page-