Tag Archives:
Luke Skywalker (Bespin Fatigues)
It's time to fill some holes in our Star Wars Rebels Visual Guide. We're adding the Luke Skywalker/Darth Vader (MS03) Mission Series. Click below for the full Visual Guide, and click here for our full review.
We are swiftly shifting gears by playing "catch up" in the Rebels toy line category. Because The Last Jedi opens tomorrow and because there will be a lot of chatter on that instead, we thought it would be a great time to hit some older toys we missed from the Rebels line. Let's begin with the Luke Skywalker/Darth Vader Mission Series two-pack. It's the focus of our Research Droids Reviews today! Be sure to leave your thoughts in our comments section, vote in the poll or even comment about it on our Facebook page. Click the banner below for the direct link to the review! As always, you can also send your review requests via email if you'd like to see something that we didn't cover yet.
Sideshow Collectibles has their Luke Skywalker (Bespin Fatigues) Premium Format figure up for pre-order. Click here for the exclusive version.
Check out the Sideshow Collectibles Premium Format Luke Skywalker (Bespin Fatigues) preview. You can also register for a chance to win one. This will go up for pre-sale on June 15th. Click here to have a look.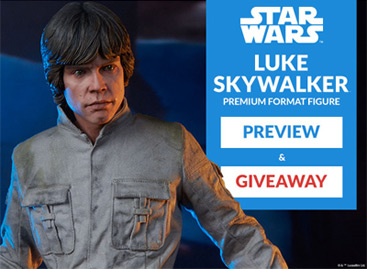 -Click HERE to return to the home page-