Tag Archives:
Kessel Run Millennium Falcon
If you are still trying to pick the Kessel Run Millennium Falcon up at a discount, you can get it at Walmart.com for $59.49 with free shipping. Thanks to JTA reader Ian for the alert!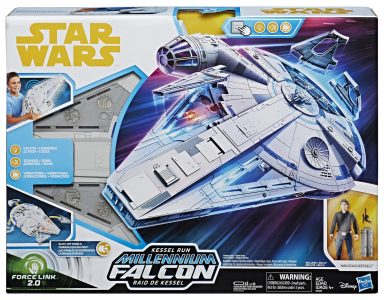 If you took advantage of that crazy online deal at Michaels Kids for the Kessel Run Millennium Falcon, you might be in for some disappointment. We are receiving reports that people are receiving the Han Solo role-play blaster instead. We've also heard that people have called customer service and Michael's is sending out corrected order 2nd-day air. So, let us know of your experience int he comments. Special thanks to friend and JTA reader Matthew D. for the report!
Wow! Get the Hasbro Force Link 2.0 Kessel Run Millennium Falcon with exclusive Han Solo figure for around $33. Michaelskids.com has it IN STOCK for $40, but use promo code STORE40W to get 40% off which brings the item down to $24 and also cancels out the shipping and tax, bringing it to around $30-$33. Special thanks to JTA reader Greg G. for the news!
If you want the Han Solo figure from the Kessel Run Millennium Falcon, but don't want the ship or want to pay $100 for it, tunghori is selling the figure loose for only $9.99!
We'd like to thank Hasbro and Litzky PR for providing us with the Kessel Run Millennium Falcon review sample from the Star Wars [Solo] line. Learn all about it in our Research Droids Reviews today! Be sure to leave your thoughts in our comments section, vote in the poll or even comment about it on our Facebook page. Click the banner below for the direct link to the review! As always, you can also send your review requests via email if you'd like to see something that we didn't cover yet.
-Click HERE to return to the home page-