Tag Archives:
Dengar
In case you aren't aware, Amazon has updated the product page for The Black Series [Phase III] 6″ figure. The figure should go up for order soon.
Our "You Bespin Me Round (Like A Record)" marathon of the Star Wars Series 4 Vintage Kenner Mini Action Figures has concluded. If you need to catch up on any of them, all you need to do is click any thumbnail below, and it will take you to the archive. We'd once again like to thank you for your participation. Recounting all of your childhood memories with these unequaled action figures and sharing the wonderful experiences you've all had with them is priceless. Please keep adding to the discussions! Also, please begin to prepare yourselves for more as we dive into September's "Pilots, Commanders And Droids! Oh My!" marathon where we look at the Series 5 figures. These reviews will focus on the Kenner action figures from the third batch of The Empire Strikes Back line.
Posted in
Research Droids Reviews News and Updates
Tags:

2-1B, 3.75" Action Figures, AT-AT Driver, Battle Of Hoth, Bespin, Cloud City, Dengar, Echo Base, Han Solo (Bespin Outfit), Imperial Commander, Kenner, Leia (Hoth Outfit), Lobot, Rebel Commander, Star Wars Episode V: The Empire Strikes Back, The Empire Strikes Back, Ugnaught
Our "You Bespin Me Round (Like A Record)" continues with the scarred Dengar bounty hunter figure. He looks great, but perhaps a little too friendly. Relive your memories of this classic 1981 action figure in our Research Droids Reviews today. Be sure to add your own experiences to the conversation! Reminisce your own childhood stories of this figure in our comments. Share your life-changing vintage Kenner adolescent experiences with us!
The final two bounty hunters have finally been released in Sideshow Collectibles' sixth scale line, and they are beautiful! Check out tonights Visual Guide update featuring Dengar. Click below for our full Visual Guide, and make sure to stop by and read our full review right here.
The Sideshow Collectibles Dengar 1:6 Scale Figure is fantastic. See why it is a must-have purchase in our Research Droids Reviews today! Be sure to leave your thoughts in our comments section, vote in the poll or even comment about it on our Facebook page. Click the banner below for the direct link to the review! As always, you can also send your review requests via email if you'd like to see something that we didn't cover yet.
After doing some further detective work, our research droids have pulled through once again and were able to find some UPC's and Amazon pages for some upcoming The Black Series 6″ Figures! Click through to see the latest and to add them to your lists!
If you missed NYCC or missed the initial sales of Dengar, you can order him right now!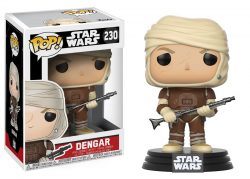 -Click HERE to return to the home page-