Tag Archives:
Daily Deals
If you held off on picking up the 6-Inch The Black Series Rey's Speeder, Entertainment Earth has it as today's Daily Deal for $25.99.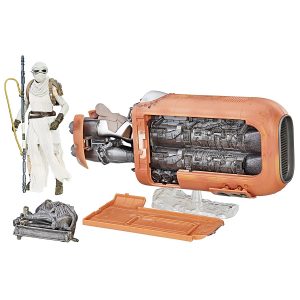 Entertainment Earth has a great Daily Deal on Wave 17 from The Black Series 6″ figures. Get the full case, featuring 8 unique figures, for $99.99! That's $12.50 per figure. Click here to pick this up!
There is a Star Wars section in the Amazon Daily Deals today that features up to 30% off Star Wars favorites. There really is a little bit of everything in there, so it might be worth taking a look. Some highlights would be TBS6 [P3] Death Trooper for $11.47 and TBS6 [P3] Unmasked Kylo Ren for a mere $7.55 and the Legendary Jedi Training Yoda for $39.95 with all of these qualifying for free One-Day shipping. Thanks to JTA reader Adam for the alert!
-Click HERE to return to the home page-