Walmart
While Brickseek isn't always reliable when it comes to inventory quantities, it's usually pretty good in letting you know the price of an item in store (if it's there at all…). It looks like Walmart has begun marking down Vintage Collection figures. Most stores in my area are $9.87. Let us know if you find figures at a lower price point in the comments!
Uh-oh… You may want to check your email if you ordered the Mimban Stormtrooper that was available yesterday. Thankfully mine already shipped, but some people aren't getting so lucky. Thanks to Mike H. for sharing this image with us.
If you love these little guys, here's a nice sale for you to build up your flock!
As you all know, The Vintage Collection Resistance Rey has already hit shelves about a month ago. Walmart is just the best retailer and I'm so glad that whenever I go I find just the Star Wars toys I'm looking for. Our friends at Banthaskull agree in their latest article. Is your experience the same? Snap a photo and let Hasbro know how well Walmart does at selling their products in our comments below…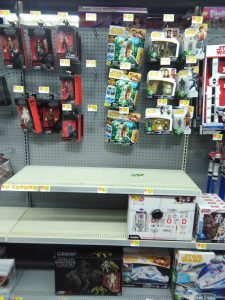 Full Story
So. What's the deal with Hasbro's "great retail partner" Walmart and them scalping their own items (most notably The Black Series 6″ figures) on their website? JTA did some investigative research and we have an answer for you. Are you curious to know what's really going on here and tired of speculating about it? Well, we know why. (more….)
This is not something we as collectors are unfamiliar with. Walmart has done this before, but just look at the egregious prices Walmart is selling Wave 2 at. These have been coming in and out of stock at this price since the announcement came of the discontinuation. What's worse, they sell out within minutes. This is who we had to rely on for our 3.75″ SA figures for awhile…thankfully that is ending. Click through to see more images.
It seems like every day we get a new report of clearance items at Walmart stores throughout the US with ever-decreasing prices. It seems to be a large push of what looks like every Star Wars product in their toy aisles from The Black Series 6″ & 3.75″ to 5POA and everything in between. Is this happening at your local Walmarts? Click through to see some examples.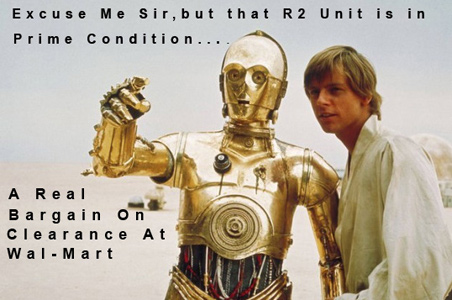 -Click HERE to return to the home page-